Home
Main content starts here, tab to start navigating
Morgan's is closed temporarily due to a fire
We are working hard to reopen in the spring with a few new menu items.
In the meantime we look forward to the opening of our new restaurant Tiny's Cantina.
Tiny's Cantina is located down the block on Flatbush Avenue close to Kith and the Barclays Center
Thank you to the community for the amazing support and well wishes. We are fortunate there were no injuries.
Morgans Featured On The Cheddar "NYC Restaurant Owners Prepare for Limited Indoor Dining"
Morgans Was Featured on Cooking Channel's Food Paradise Outdoor Eats
TRIP ADVISORS TRAVELERS' CHOICE WINNER!
Only the top 10% of restaurants in the world are awarded this high honor!
THANK YOU FIRST RESPONDERS!!
Morgan's is one of NYC's best kid friendly restaurant's to eat outside!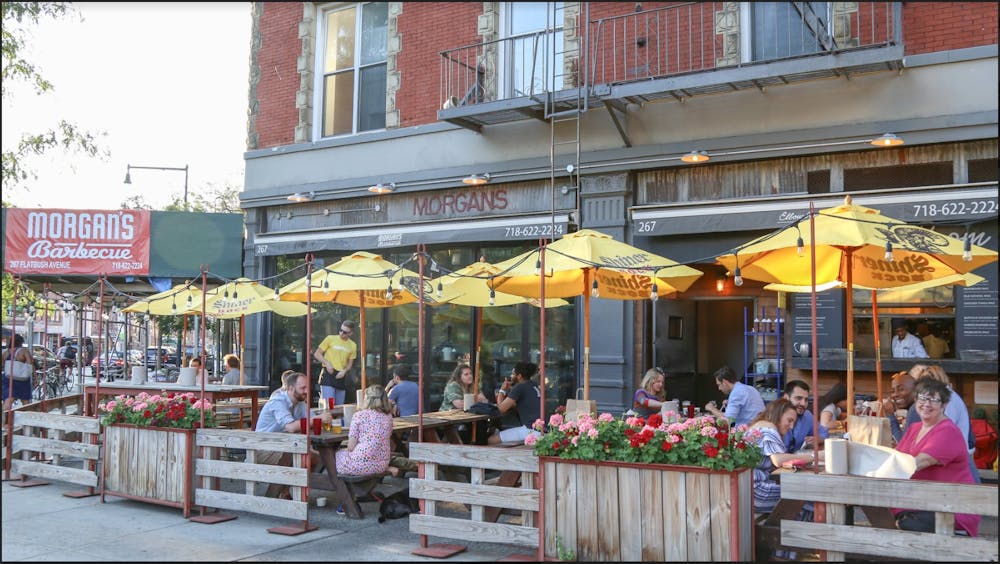 Morgan's Mac n' Cheese and Holy Trinity Featured on Business Insider
Thank You Food 52 For Naming Morgans as one of Your 13 New York City Restaurants That Are Tried & True Neighborhood Gems!!!
13 New York City Restaurants That Are Tried & True Neighborhood Gems Click to read!
"Morgan's Brooklyn Barbecue
Morgan's is the kind of neighborhood spot you can go back to over and over again. With a diverse menu of both barbecue and drinks (not to mention, seven different types of macaroni and cheese), it's got something for everybody. Oh, and don't sleep on the smoked wings. "
Ryan from Million Dollar Listing Eating Lunch at Morgans
"Smoked, Steak May Never Be the Same"
Front Burner
Smoked, Steak May Never Be the Same
At Morgan's Brooklyn Barbecue, steak is bathed in smoke before it's finished on a grill.
By Florence Fabricant
There's barbecue, low and slow, and then there's grilling, hot and quick. Now, both methods meet in an unusual approach taken by Cenobio Canalizo, the chef at Morgan's Brooklyn Barbecue. The result is smoked steak, so delicious that it made me wonder why anyone would cook a steak any other way. The steak, a boneless prime New York strip is smoked with a dusting of smoked salt for about 20 minutes in a regular smoker alongside brisket and ribs. Then the steak is set aside. Later, to order, it's finished on the grill and served sliced with more smoked salt. The meat has a subtle, alluring woodsy char in its aroma and flavor. Mr. Canalizo said the method would work for a bone-in steak and, with about 45 minutes in the smoker, a double porterhouse or rib-eye. Try it at home.
Smoked steak, $33 for 14 ounces, Morgan's Brooklyn Barbecue, 267 Flatbush Avenue (St. Marks Avenue), Prospect Heights, Brooklyn, 718-622-2224, morgansbrooklynbarbecue.com.
Risk it for our brisket.
Morgan's is more than just good food. Morgan's is good atmosphere, good drinks, a spot at the bar, and always a game on the TV. If you were to walk into any good barbecue joint in the central Texas area, we hope you would find the same neighborhood atmosphere of locals and out-of-towners all enjoying the day the way you will here. Come for the food, stay for a drink or two at the bar, or enjoy the outside patio with friends over a cold pitcher of Shiner and the best chips and queso in all of New York City. With Texas-sized love for the best city on planet earth, Morgan's wants to be your neighborhood stop for beer and barbecue.
Morgan's offers a wide selection of Bourbon, Whiskey, & Rye.
Whiskey List